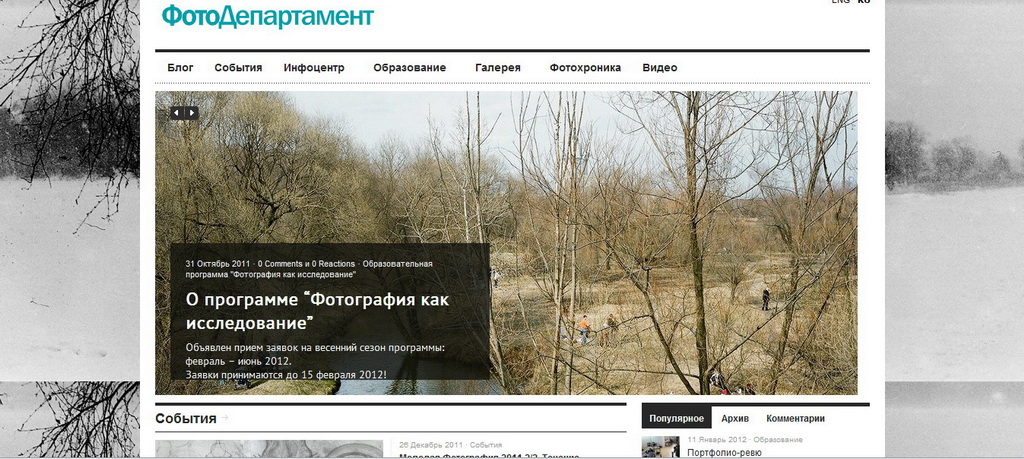 We launch a new web site!
Dear friends,
FotoDepartment is glad to welcome you here, on our new website. After 5 years of work we have grown from the old, cosy, but still out-of-date site which didn't allow us to communicate with an audience, and which had quite complicated structure. We have registered in social networks and blogs (add us on twitter/facebook), but website gives a place for all projects, translations of events and communication.
We are going to reopen our online-shop, where you can conveniently and easily order photographs of Russian artists, books and albums, magazines, notebooks, postcards, bags and pillows with photos, and etc.
Also we would like to inform you that we have finally made up our mind to publish online photography magazine, which, we hope, will speak and write about those things which are not so known in Russian photography:  about interaction between theory and philosophy, modern practices and tendencies in photography, about importance of reading, viewing, buying and writing the books; magazine where will be more questions and directions for inspiration, than answers. Online-magazine will be published both Russian and English languages. Watch news in February-March.
Website is still in process of completions and improvements, and we would be very grateful for your comments if you notice mistakes on our site.
We will be pleased for all responses and offers how to improve and develop the website.
Thank you for being with us!